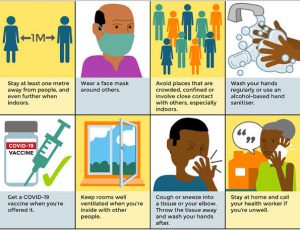 The COVID-19 pandemic has done considerable harm globally and there is no clear indication it will be resolved soon. We must therefore put do everything possible to control it and move on with life. As the Institute delivers its programmes, critical measures are taken to;
Safeguard the work environment, mental, emotional and physical wellbeing of all our students and staff.
Securing the confidence of staff, students and their families with evident safety plans and timely information
Conformity to the Ministry of Health Guidelines and alignment with the national effort to fight the spread of COVID-19.
Prioritising learners including all those from disadvantaged backgrounds.
Standard Operating Procedures to control the spread of COVID-19
To ensure the health and safety of our students, staff, and visitors, all on-campus activities are subject to the following measures:
Social Distancing – Please maintain a 1 metre social distance between people around you at all times
Face Coverings – Everybody must wear a face covering at all time when indoors and when in close proximity to another person while outdoor (unless exempt)
Check-In – Everyone accessing campus must register with Security and have their temperature recorded to help trace contacts to prevent the spread of Coronavirus
Hand washing and sanitizer stations will be located throughout campus for your use.